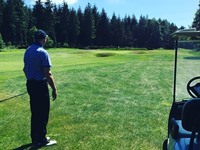 Golfing Excursions
A selection of the finest Golf Courses in the Lake District for you and your party to play, we also provide transport to get you too and from various courses with in the area.
Arrival on first day will allow you to you leave your vehicle at the Guest House car park and there will no need to use again until the day you depart.
Each morning breakfast is included you have a choice from Continental or a full cooked breakfast ( or partial cooked breakfast)
Courses available in the Acorn Guest House Golf Packages:
Carlisle Golf Club
Eden Golf Club Carlisle
Brampton Golf Club
Penrith Golf Club
*Subject to
availability.
Golf Options
Two Night Package 2 Night Stay play 2 of Cumbria's finest courses
Three Night Package 3 Night Stay play 3 of Cumbria's most enjoyable courses
Four Night Package 4 Night Stay experience 4 of Cumbria's most beautiful Golf courses
Please enter your dates above to check availability.